We didn't find anything nearby, but here's what's happening in other cities.
There aren't any events on the horizon right now.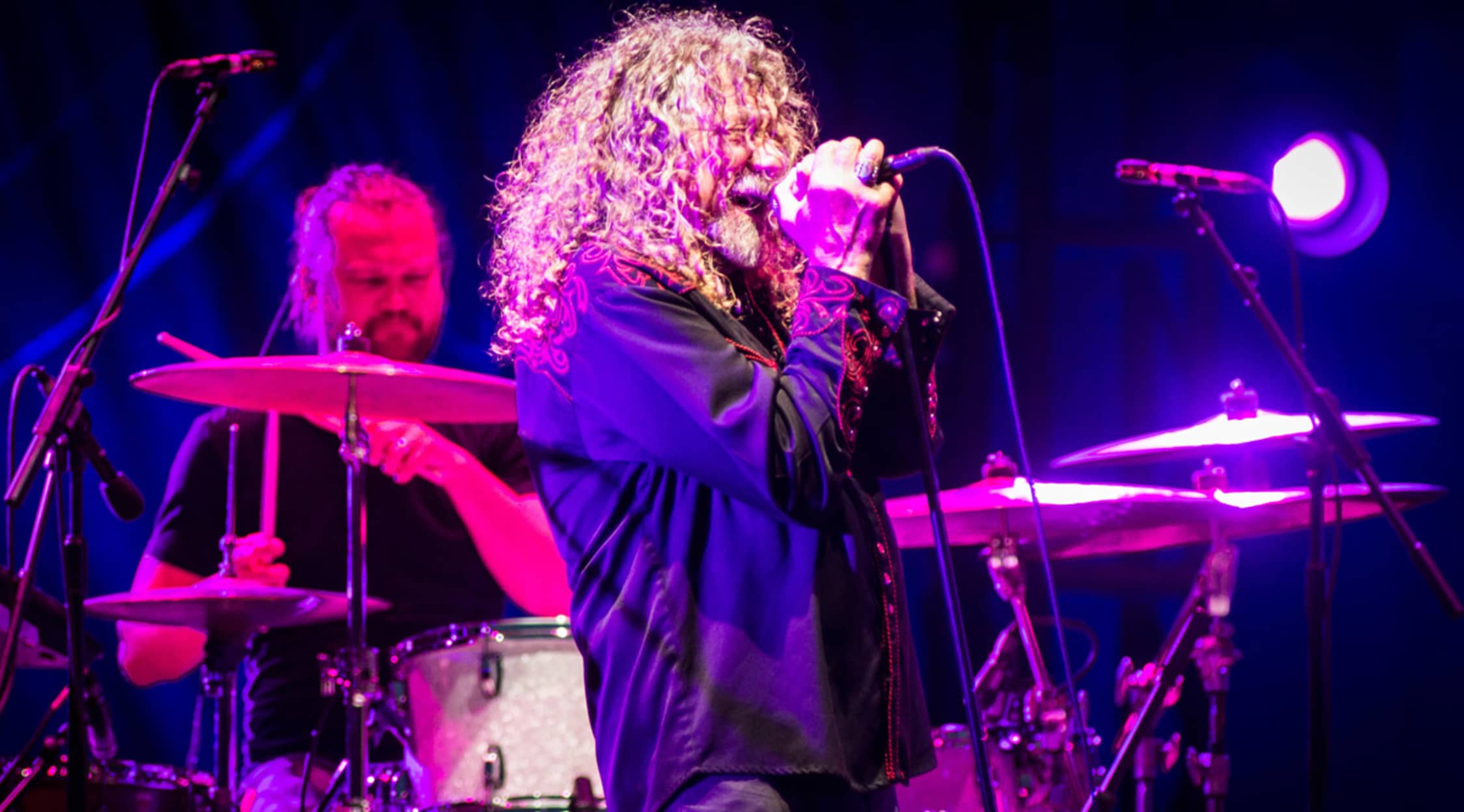 Alamy
Robert Plant Tickets
Robert Plant Tickets
Born in 1948 in Staffordshire, England, Robert Plant rose to prominence as the lead singer of one of the greatest rock and roll bands of all time, Led Zeppelin, from 1968 to 1980. He has been a solo artist, with forays into various collaborations, since 1982. Plant, along with band mate and electric guitarist Jimmy Page, wrote "Stairway to Heaven," which is considered one of the greatest rock and roll songs ever. Performing with Led Zeppelin, Plant was best known for his lyrical improvisation, often singing verses and lyrics never heard on the song's accompanying album. This improv, along with his songwriting ability, allowed him to co-write multiple albums as a solo artist, culminating in a reunion with Jimmy Page in 1994.
Musical Adventures and High Honors
The fame of Led Zeppelin may have launched Robert Plant's solo career, but he went on to successfully reinvent himself several times. His first solo album, Pictures at Eleven in 1982, featured Phil Collins on drums. His second solo release, The Principle of Moments in 1983, gave him his first Top 40 Hit as a solo artist, "Big Log." In the late 1980s and early 1990s, he co-wrote three albums with Phil Johnstone: Now and Zen, Manic Nirvana and Fate of Nations. From 1994 to 1998, he reunited with former Zeppelin bandmate Jimmy Page to release No Quarter and Walking into Clarksdale. "Most High" from the latter won a 1998 Grammy for best hard rock performance. At the turn of the century, Plant was performing folk-rock with Priory of Brion. From 2001 to 2007, with his new band Strange Sensation, he covered blues and folk tunes in Dreamland and released new, original songs in Mighty Rearranger. Raising Sand, his album with bluegrass-country singer Alison Krauss, won the 2008 Grammy for album of the year as well as the other four Grammys for which it and its songs were nominated. In 2010 and 2011, Plant ventured into Americana, touring the United States with yet another new group, Band of Joy. He currently favors blues-rock and world music while performing with the Sensational Shape Shifters, which formed in 2012. Plant's five-decade-long musical odyssey has earned him the adoration of millions of fans as well as accolades in high places. In 2009, Prince Charles dubbed Plant a Commander of the British Empire in a ceremony at Buckingham Palace. In 2011, Rolling Stone readers voted him the greatest of all lead singers. In 2012, Sir Robert Plant received Kennedy Center Honors. Having teamed with multiple bands and musicians since then, Plant now tours either as a solo act or with the Sensational Space Shifters.
Where can I buy Robert Plant tickets?
Tickets for any Robert Plant concert or tour can be purchased at StubHub, the world's largest ticket marketplace. Purchase tickets securely on their app or website and know that you will be backed by their FanProtect guarantee.
What is a Robert Plant setlist like?
On Plant's current tour, about half of the songs come from solo albums, and the other half are covers of some sort. Of those covers, Plant typically plays at least three or four Led Zeppelin songs. "Ramble On" and "Black Dog" usually make the list.
How long does Robert Plant play in concert?
Robert Plant usually plays anywhere from 10 to 15 songs, and since many of the songs are pretty lengthy, it can turn into a two- or three-hour show.
Can Robert Plant play all of Led Zeppelin's songs?
Based on current and past setlists, it appears that any Led Zeppelin song is up for grabs, but Plant usually chooses only a few for his shows.
Is a Robert Plant tour headed for a city near me?
Plant is currently touring with the Sensational Space Shifters throughout North America, so chances are that they will be playing at a venue near you.
Which artists are similar to Robert Plant?
There are not many artists like Robert Plant, especially any that are still touring and doing shows. Plant is a trendsetter, and while many have tried to mimic his work, nobody offers his combination of vocals, songwriting skills and talented band mates. However, fans of his work might enjoy the music and personae of other classic rock "gods" like Mick Jagger, Freddie Mercury and Jim Morrison.
Back to Top
Epic events and incredible deals straight to your inbox.