We didn't find anything nearby, but here's what's happening in other cities.
There aren't any events on the horizon right now.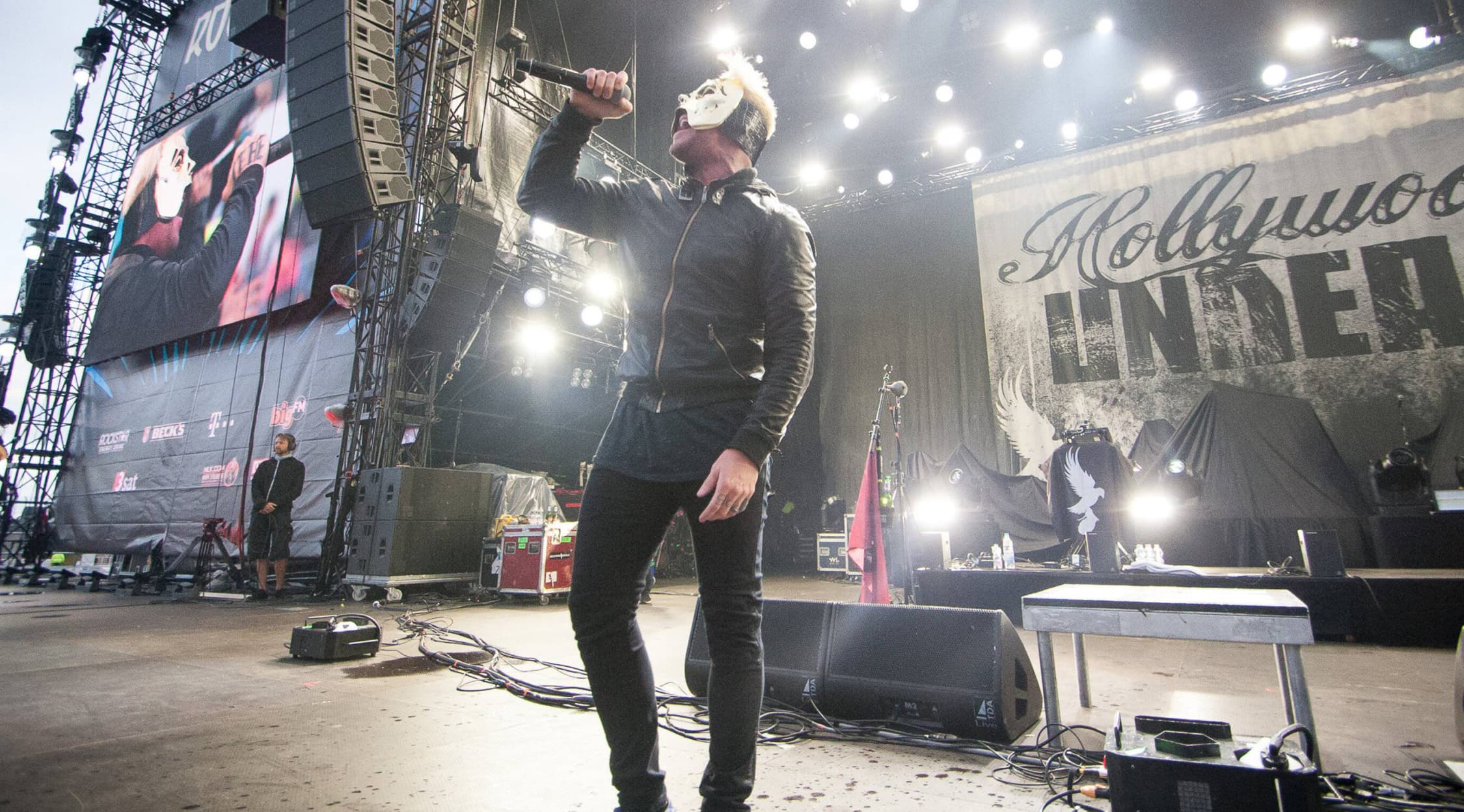 Zuma Press
Hollywood Undead Tickets
Hollywood Undead Tickets
Hollywood Undead is an American band that combines rap and rock music in their songs. After forming in Los Angeles in 2005, it spent two years working on its debut album Swan Songs, which climbed to No. 22 on the charts. Former lead singer Aron Erlichman left the band in 2009 due to creative differences, which led to Danny Murillo taking his spot. Hollywood Undead released a new album in 2018 called Psalms that featured the hit song "Bloody Nose." The band then announced plans to head back into the studio to work on their sixth studio album. Known for the masks that they wear, the band often performs live in front of fans who wear similar masks.
Unedited Behind the Masks
During its early days, the men of Hollywood Undead had issues finding a studio because they refused to release an edited version of their first album. The commitment the band has to its beliefs still exists today, as the band plays live with unedited material. It frequently drops new lyrics and samples into its songs to keep audiences on their toes. Swan Songs, its first album, featured songs such as "Everywhere I Go" and "Undead." Hollywood Undead also saw its latest release, Five, climb the charts thanks to songs like "California Dreaming," which it released as a single prior to dropping the album. You can see it play those and other songs when you get Hollywood Undead tickets.
Where can I buy Hollywood Undead tickets?
Known as an opening act for many years, Hollywood Undead now headlines some rock and rap shows. When the band announces its next tour, you can get your tickets at StubHub. Some shows include VIP packages that come with a meet and greet session that lets you chat with the band before or after the show.
Where can I see Hollywood Undead playing?
You can see Hollywood Undead at shows across the country. Its past tours took it to cities such as Cincinnati, Ohio, and Los Angeles, Calif. The band also performs at music festivals that feature bands from the same genre. Those festivals include Rock Fest and Aftershock.
What can I expect from a Hollywood Undead concert?
Hollywood Undead believes in giving its fans everything it has. You can expect to see a high-octane performance that features all of your favorite songs. Most shows begin with one to three opening acts, which can include local bands or those just starting out. The band usually starts with "Undead" or another popular song to get fans excited before it segues into "Another Level" and some of their other modern songs. You will usually hear "Hear Me Now" and other songs too.
How long is a Hollywood Undead concert?
With Hollywood Undead tickets, you can see both the band and other musical acts take the stage. When it toured with Avenged Sevenfold, the band performed for 45 minutes or more. Now that it is the main act and not the opening act, it plays for an hour to 90 minutes or longer. The show will run for longer than 60 to 90 minutes though, when you factor in the opening acts.
Who are the members of Hollywood Undead?
The current members of Hollywood Undead include J-Dog, Funny Man, Johnny 3 Tears, Danny and Charlie Scene. Shady, Deuce and Da Kurlzz previously played with the band before parting ways. Erlichman started with the band in 2005 and sang lead vocals on its first album under the nickname Deuce. He now collaborates with groups such as Blood on the Dance Floor. Danny took over as lead singer in 2009 and remains its lead singer today.
Will Hollywood Undead tour in 2019?
Though Hollywood Undead will not tour in 2019, you can expect to see the band tour in the coming years after they release a new album near the end of the year or the beginning of next year. Some of the members of the band also hope that they will play again with Stone Sour, who it traveled with during its first North American tour.
Back to Top